"LinkedIn is the world's largest professional networking site. It's a powerful tool for building relationships, connecting with potential customers, and establishing yourself as an expert in your field." - Jason Alba, author of "I'm on LinkedIn - Now What??"
If you have a LinkedIn profile, chances are you already have a personal page and it's not optimized as it should. A LinkedIn profile allows you to connect with your target audience through your personal brand.
LinkedIn helps you connect with your audience on a more personal level and allow them to interact with you in an individual capacity.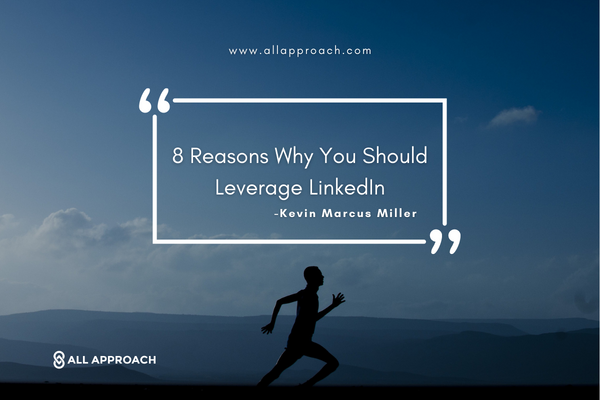 Here are

8 reasons why you should start leveraging LinkedIn marketing
1.

Building a Strong Network:
You may demonstrate your credibility and dependability as a professional by connecting with influential people in your field, potential clients, and essential decision-makers. Making connections with influential people in your field can be a powerful method to help broaden your network.
2. Connect with them
Reach out to these leaders and establish a LinkedIn connection as soon as you have determined they are leaders in your industry. When asking to connect, make sure your message is formal and specific. Let them know that you are very knowledgeable in the same field and want to communicate because of their influence.
3. Become an authority
Your personal page on LinkedIn gives you the ability to create authoritative content in your niche. It will also help you establish credibility and become an expert in your field. Moreover, they provide you with an opportunity to build an audience that will help push your company's brand recognition.
4. Build relationships with potential customers
One of the most important aspects of LinkedIn is establishing a connection with your potential customers. This can be done through engaging in conversation in your inbox, posting about how you operate your business, or even sharing inspiring content that you think will resonate with them. These interactions also make it easier for you to keep up with what people are saying and sharing on social media.
5. Engage with your potential customers content
Connecting with those in your professional circle on LinkedIn can be a great way to stay on top of what's happening in the industry. Not only does it allow you to hear about trends and news, but it also helps you stay connected with potential clients and leads.
Once you make connections, engaging with their content is crucial for keeping yourself top-of-mind. Commenting, liking, and sharing their posts are all great ways to show interest in their work. It can even open up opportunities for collaboration or further engagement down the line.
Take time each day or week to engage with those you follow - even if it's just a quick "like" or comment - so they remember who you are and what you offer! Staying active increases your visibility, builds relationships, and keeps your network growing.
6. Leverage LinkedIn Sales Navigator
LinkedIn Sales Navigator is a great way to find potential customers and gain visibility among their target audience. With its search and targeting features, LinkedIn gives users access to an immense database of contacts that can be filtered according to their industry, location, skillset, job title etc. This provides businesses with an effective tool to reach out to their target market quickly and easily.
Using LinkedIn's advanced search feature allows users to enter specific criteria so they can identify potential customers who match their desired profile. They can also make use of LinkedIn's targeted ads option which enables them to reach out directly with tailored content based on their preferences. Furthermore, businesses can create a personalized message to each connection that is unique the that industry. If you are having trouble coming up with what to write, you can use AI tools such as Jasper.
7. Join LinkedIn Groups
By actively participating in these groups, you can build relationships with potential leads, share helpful resources, and showcase your expertise. Furthermore, joining industry-specific groups can help you keep up with the latest trends in your sector by engaging in conversations within the group or following influential members. Not only will this benefit your own marketing efforts but it will also allow you to network with other professionals and give back to the industry by helping others succeed.
To maximize the success of your digital strategy on LinkedIn, make sure that you join multiple relevant groups that are related to both your field and target audience.
8. Build a referral network
Creating relationships with industry influencers and tapping into their networks can help you generate leads through referrals. If you are a marketing agency looking to grow your LinkedIn presence and get more leads, then building relationships with industry influencers is the key.
By utilizing your current network of contacts and reaching out to other professionals in the field, you can begin to create valuable connections that not only bring value to your business but also allow for mutual growth by referring potential customers. Taking the time to build meaningful relationships with professionals who have influence in your industry will open up opportunities for referral opportunities as well as increased exposure on LinkedIn. You should focus on creating partnerships that add value to both parties, such as providing them with helpful content or offering discounts or promotional codes to their followers.
Go From Zero Appointments to 5 Booked Appointments Per Week In 30 Days on LinkedIn Or Your Money Back! Check out our LinkedIn Power Accelerator Course.
Want help with your LinkedIn outreach? Schedule an initial consult via https://allapproach.com/
Check out: https://www.allapproach.com/linkedin-marketing-blog and subscribe to stay updated on LinkedIn marketing tips, lead generation tips, how to be your own CEO, and more!